Phyllis Phillips
Grade:
Eighth Grade Homeroom and Religion, Language Arts for Grades 6-8
Email:
pphillip@sfdscs.org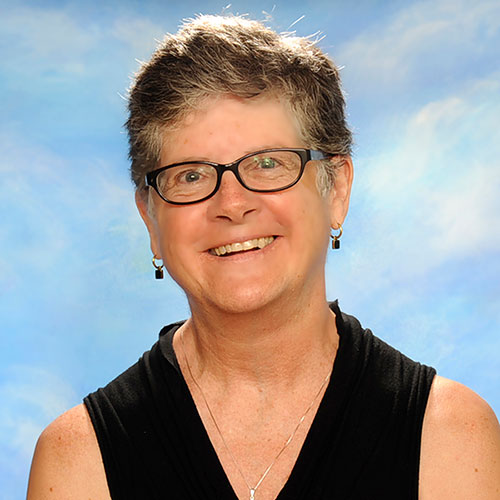 Welcome Message
Wishing you and your family a blessed Christmas!
Teachers Bio
Phyllis Phillips teaches eighth grade homeroom and religion, as well as language arts for sixth through eighth grade. She has 25 years of experience teaching. She has a Bachelor of Science degree from Towson University and a master's equivalent. She is the recipient of The Benemerenti Medal for long-tenured commitment and service to Catholic education.
Phyllis has taught at SFdS for more than 20 years and uses projects and games interspersed with traditional learning to keep students engaged. She develops strong relationships with all her students and spends extra time with students to make sure everyone understands the lessons.
Viewing herself as a director and producer of activities, Phyllis relates classroom lessons to real life and uses classroom discussions to involve all students. She uses warm-ups, question and answer sessions, and formal as well as informal assessments to measure each student's progress.
Welcome Message
Wishing you and your family a blessed Christmas!
Announcements
8th grade goes to Joseph House to serve lunch every 4th Wednesday of the month.
Students bring in items for a meal, and four students go to serve.
I will need a driver/chaperone from 9:45-12:30 every month!
Mrs. Rolls is driving/chaperoning Wed., 2/27!  Thank you so much!
Upcoming Events
Joseph House visits:
February 27 – Mrs. Rolls
May 22 – ?
Homework
This Week's Homework:

01/22/2019

Instructions

monday

tuesday

wednesday

6th, 7th & 8th vocabulary – pg. 107 due tomorrow

8th religion – Joseph House items due tomorrow

thursday

6th, 7th & 8th vocabulary – prepare for spelling/vocab tests on Unit 8

7th & 8th vocabulary – post essay to google classroom

8th religion – memorize the Act of Faith, Hope and Love to be recited in class tomorrow

friday
To view archived homework please select the week from the list.
Week Of:

01/07/2019

Instructions

monday

8th vocabulary – pgs. 95/96

tuesday

6th & 7th vocabulary – pg. 97

wednesday

thursday

6th, 7th & 8th vocabulary – prepare for Unit 7 spelling/vocab tests tomorrow!

friday
Week Of:

01/02/2019

Instructions

monday

tuesday

wednesday

6th, 7th & 8th vocabulary – Unit 7 pgs. 90-92

thursday

6th, 7th & 8th vocabulary – pgs. 93/94

8th religion – begin memorizing the Acts of Faith, Hope and Love for recitation Tuesday, 1/22

friday

6th & 7th vocabulary – pgs. 95/96

8th grade – bring in a baby picture for guessing contest – due Monday, 1/14
Week Of:

//

Instructions

monday

tuesday

6TH, 7TH & 8TH VOCABULARY – prepare for cumulative spelling/vocab tests on Units 1-6 – TOMORROW, 12/19!

wednesday

thursday

8th religion – bring Secret Santa gift for sharing tomorrow, 12/21!

friday
Week Of:

12/10/2018

Instructions

monday

6th, 7th & 8th vocabulary – prepare for cumulative spelling/vocab tests on Units 1-6 – Thursday, 12/20

6th, 7th, & 8th vocabulary – complete Basic Meanings worksheet – due tomorrow, 12/11.

8th English – prepare for test on verbals – gerunds, participles, and infinitives – Wednesday, 12/19

tuesday

wednesday

7th & 8th vocabulary – Synonyms/Antonyms due tomorrow

7th English – prepare for test on prepositions tomorrow

thursday

6th vocabulary – Synonyms/Antonyms due tomorrow

friday

6th & 7th vocabulary – Fill in the Blanks worksheet due Monday, 12/17

7th & 8th literature – prepare for quiz on Ch. 1-3 of Z for Zachariah; complete group work and chapter worksheet

6th reading – prepare for quiz on Ch. 1-3 of Brian's Winter; complete Character Traits web – due Mon., 12/17
Week Of:

12/03/2018

Instructions

monday

8th vocabulary – pgs. 77/78 due tomorrow

tuesday

6th & 7th vocabulary – pg. 79 due tomorrow; study for tests on Unit 6 on Friday, 12/7

wednesday

8th vocabulary – pg. 79 due tomorrow; study for tests on Unit 6 – Friday, 12/7; essay due Fri., 12

6th English – finish worksheet on Reflexive and Intensive pronouns, both sections A & B, due tomorrow, Thurs, 11/29

7th literature – bring in $8.00 for Z for Zachariah

thursday

6th, 7th, & 8th vocabulary – prepare for tests on Unit 6

7th & 8th vocabulary/writing – Unit 6 essay due 13

7th English – prepare for test on prepositions – Thurs., 12/13

8th religion – learn Act of Contrition for recitation in class Monday, 12/17

friday
Week Of:

11/26/2018

Instructions

monday

8th religion – Joseph House items due Wed., 11/28

tuesday

8th religion – Joseph House items due tomorrow

6th & 7th vocabulary – pgs. 72-74 due tomorrow

wednesday

8th vocabulary – pgs. 75/76 due tomorrow

thursday

8th religion – study for Ch. 3 test tomorrow

6th & 7th vocabulary – pgs. 75/76 due tomorrow

friday

6th & 7th vocabulary – pgs. 77/78 due Monday, 12/3
Week Of:

11/12/2018

Instructions

monday

tuesday

6TH, 7TH & 8TH – VOCABULARY – pgs. 65/66

wednesday

6th & 8th vocabulary – pgs. 67/68
7th vocabulary – pgs. 65/66

7th literature – prepare for a test on "Annabel Lee" on Friday, 11/16

7th English – prepare for quiz on multi-word prepositions TOMORROW, 11/15

thursday

6th & 8th vocabulary – pg. 69

7th vocabulary – pgs. 67/68

7th literature – prepare for test on "Annabel Lee"

friday

6th, 7th & 8th vocabulary – study for spelling/vocab tests that are TUESDAY, 11/20

7th vocabulary – pg. 69

8th religion – study Prayer to the Holy Spirit for recitation on Monday, 11/19
Week Of:

11/05/2018

Instructions

monday

8th – vocab Unit 4 pgs. 57/58

tuesday

6th & 7th – Unit 4 vocab pgs. 57/58

wednesday

7th – literature – prepare for test on "The Highwayman"

8th – vocab Unit 4 pg. 59

thursday

6th, 7th, & 8th – prepare for Unit 4 spelling/vocab tests

7th & 8th – complete and post to Google Classroom Unit 4 essay

7th – English – memorize the 12 multiword prepositions on pg. 224 of your English text for quiz on Thur., 11/15

8th – religion – study Prayer to the Holy Spirit for recitation Monday, 11/19

friday
Week Of:

10/29/2018

Instructions

monday

8th – Vocabulary – Unit 4 – pgs. 52, 52, 54

8th – Religion – prepare for test on Ch. 2 – Wed., 10/31

tuesday

6th & 7th – vocabulary Unit 4 pgs. 52, 53, & 54

8th – prepare for religion test on Ch. 2 – Thursday, 11/1

8th – prepare for literature test on A Midsummer Night's Dream – Friday, 11/2

wednesday

8th – vocabulary pgs. 55/56

8th – prepare for religion test on Ch. 2 – TOMORROW

thursday

6th & 7th – vocab pgs. 55/56

8th – prepare for test on A Midsummer Night's Dream – TOMORROW

friday

6th & 7th – vocab pgs. 57/58
Week Of:

10/22/2018

Instructions

monday

6th, 7th & 8th – vocab review Fill in the Blanks/Analogies – due   Tuesday, 10/23

tuesday

wednesday

7th & 8th – vocab Prep Worksheet 1 due Thursday, 10/25

7th – study first two columns of prepositions on pg. 424 of text for quiz on Wed., 10/31

thursday

friday
Week Of:

10/16/2018

Instructions

monday

tuesday

6th, 7th & 8th – Basic Meanings worksheet for vocabulary review

Study for cumulative spelling/vocab tests – Mon., 10/29

7th – prepare for English test on punctuation – Thurs., 10/18

wednesday

thursday

6th, 7th & 8th – Vocab – Synonyms/Antonyms worksheet due tomorrow, 10/19

8th – literature – Act 4 homework due Monday, 10/22

8th – religion -Know your Direction of Intention for recitation tomorrow, 10/19

Joseph House items due Wed., 10/24

6th – reading – prepare for test on Freedom Walkers – Monday, 10/22

7th – literature – prepare for test on The Breadwinner – Monday, 10/22

friday
Week Of:

10/01/2018

Instructions

monday

8th vocab – Unit 3 pgs. 34, 36, & 36

tuesday

6th & 7th Unit 3 vocab pgs. 34, 35, & 36

wednesday

8th Unit 3 vocab pgs. 37 & 38

thursday

6th & 7th Unit 3 vocab pgs. 37 & 38

7th – prepare for quiz on The Breadwinner Ch. 7-9 and complete homework for Ch. 7-9

friday

6th, 7th, & 8th Unit 3 vocab pgs. 39 & 40
Week Of:

09/24/2018

Instructions

monday

8th grade prepare for quiz on Act 1 of A Midsummer Night's Dream

8th – complete pgs. 29/30 Unit 2 vocab

tuesday

8th grade – Joseph House items due tomorrow, 9/26

6th & 7th Unit 2 vocab pg. 31 and study for tests on Friday, 9/28

7th & 8th Unit 2 vocab essay due Friday, 9/28

wednesday

8th Unit 2 vocab pg. 31, study for Un. 2 vocab tests, complete essay

8th grade Joseph House items due

thursday

6th, 7th & 8th grade study for Unit 2 spelling/vocab tests

7th & 8th Un. 2 vocab essay due tomorrow on google classroom

friday
Week Of:

09/17/2018

Instructions

monday

8th – vocab pages 24, 25, 26

tuesday

6th & 7th grades – vocab pages 24, 25, 26

wednesday

thursday

6th & 7th – vocab pgs. 27/28

friday
Week Of:

09/10/2018

Instructions

monday

tuesday

wednesday

thursday

Study for Unit 1 vocab spelling/vocab tests tomorrow 9/14

friday
Supply List
2019-2020 6th – 8th Supply List
WIDE ruled loose leaf paper for assignments
pens of blue and/or black ink for assignments
red, green or orange pens/pencils for correcting
composition notebook for notes
folder for assignments/returned papers