Preparing For High School Success
Students Expand Academic Foundation, Explore Arts, Music And More
As students enter the middle school program, technology starts to play a more significant role in their education. Each student utilizes their own Chromebook. Teachers use this tool as a platform for instruction, research and assessment.
As a Google Classroom School, the teachers are able to assign, monitor and evaluate student progress in real time. This gives teachers valuable information about each student's progress and allows them to help meet each student's individual needs.
As part of our ongoing religious education, students explore concepts such as morality and social justice understanding.
Explore more about each subject:
Language Arts
Our middle school language arts instruction is focused on introducing students to literary classics, using an anthology and standalone novels. We use the Loyola Press series to build understanding of grammar and the fundamentals of writing.
Math
In our middle school program, students are placed in math classes according to their ability. We offer an advanced math program for qualified students. We use Pearson publisher for math instruction, which includes an online component.
Science
We continue our emphasis with hands-on science instruction, using interesting lab experiments every week to bring science concepts to life for our students.
Social Studies
In our middle school program, our social studies curriculum expands to include world civilization and United States history. Taught using online textbooks, we use written research papers and projects to teach students how to evaluate and synthesize ideas. Students present their finished projects to the class, helping to build their oral presentation skills.
Spanish
Learning a second language is a priority for our students at St. Francis. Spanish is taught to all students and they receive high school credit by the end of their 8th grade year.
Extracurricular Activities
In addition to our core academic subjects, students also participate in art, music, computer, library and physical education classes every week. They are also encouraged to explore the many extracurricular activities we offer at St. Francis to learn new skills, make friends and gain new opportunities for academic, spiritual and personal growth.
Weekly activity periods give students time to participate in yearbook, choir, band, school newspaper, STEM projects, debate, art and performing arts. Our students audition and many qualify for All Shore Choir.
Sports
St. Francis offers a competitive sports program for our students, which includes soccer, golf, basketball and lacrosse.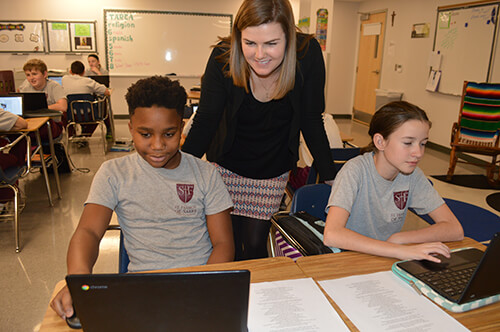 Meet Our Sixth Grade Class
Led by Rita Mello, the sixth grade class begins to develop a deeper understanding of the core academic subjects while beginning to delve into athletics, music, arts and other extracurricular activities.
Meet Our Seventh Grade Class
Led by Jennifer Kirchner, the seventh grade class uses technology to monitor and evaluate their individual progress while also making new connections through extracurricular activities.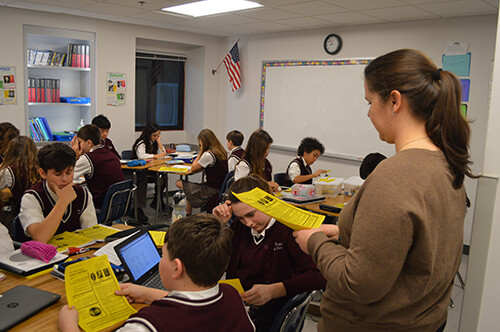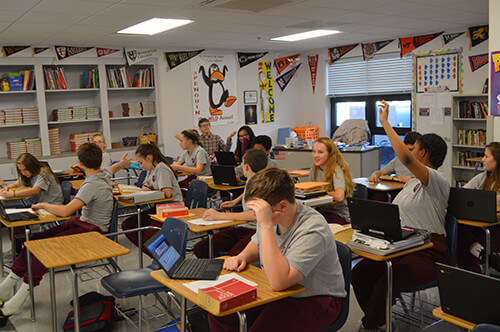 Meet Our Eighth Grade Class
Led by Phyllis Phillips, the eighth grade class is focused on preparing to enter high school and continue their academic journey.
PROFILE OF A GRADUATE
A St. Francis de Sales graduate models Jesus in thoughts, words, and deeds while:
Recognizing God in others while acting with kindness, courage, and peace.
Living out faith, mercy, empathy, and justice through service.
Possessing critical thinking and problem solving skills.
Demonstrating academic integrity and effective study habits.
Listening actively and communicating effectively.
Utilizing and adapting to technology.
Aspiring to higher education and career readiness.