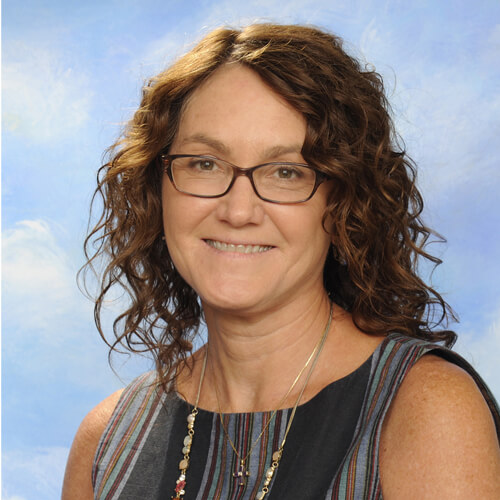 Welcome Message
WELCOME TO 3RD GRADE!
Welcome to third grade at St Francis de Sales School Catholic School! My name is Mrs. Holmes I am looking forward to a "purr-fect" school year with all of my  "Coolcats"!
I am new to SFdSCS and am  settling in very nicely! I'm very happy to be a new member of The St. Francis de Sales Family! I have been a proud Catholic School Teacher for 27 years! I just moved to the Eastern Shore with my family. I'm from Southern New Jersey and taught for the Diocese of Trenton. I myself, am a product of Catholic Education. I am elementary certified in New Jersey and Maryland and have taught every grade between kindergarten and eighth grade. I believe in using a variety of teaching strategies to meet the individual needs of my students. I also feel  that it is important for the parents and I to work together for the success of our students. 
Teaching is very dear to me. I love the adventure each new year brings and still look forward to every September and the many fun memories to come. My  favorite part of working at a catholic school is that I can practice my faith in every facet of my life.
Please be on the lookout for weekly updates and announcements. If you have any questions or concerns please contact me at pholmes@sfdscs.org.
May God's light continue to shine brightly on us all this blessed school year!
Patricia Holmes
Welcome Message
WELCOME TO 3RD GRADE!
Announcements
Upcoming Events
Homework
This Week's Homework:

//

Instructions

monday

tuesday

wednesday

thursday

friday
To view archived homework please select the week from the list.
Supply List
Art Supply List for KG-4th Grade
Third Grade, The "Purr-fect" Year 2020 -2021 School Supplies 
Dear Parents/Guardians, 
I hope you enjoyed the summer. Welcome to Third Grade! Before you start, here is a list of supplies you will need in September. You may purchase them throughout the summer. These items will not be sold in school, and should be brought to school during the first week of school. 
2 – Jumbo Book Soxs 2 – marble – type composition books (at least 100 pages) for science and math 1 – eraser 1 dozen – #2 pencils 2 – hi-liters 2 – red pens 6 – glue sticks 1 – shoebox sized plastic box with lid for Art and extra school supplies(no supplies will be shared or common) 1 – 24 count box of crayons (no larger or twistable crayons) 1 – package of fine point markers (no larger than 18 count – Please no Sharpies) 1 – package of colored pencils (no larger than 12 count) 1 – pair of scissors 1 – package of dry-erase markers 1 – old sock (for use with Dry Erase Boards) 1 – One inch Binder 1 – Two pocket folder to go in Binder 3 – Durable Two pocket folders for Spanish, Science, and Classwork 1 – Three Hole Punch pencil case for binder for notes and money sent to school 1 – set of earphones/earbuds (these are very important) 1 – hat to protect from sun (for outdoor classes as per CDC regulations) 1 – box of slider Jumbo Food Storage Bags- (They generally are 2.5 gallons and come in a box of 10) 
Due to lack of space PLEASE only send in requested items. 
The following items must be purchased in school. Prices will become available in September and will be sent home the first day of school. 
1 – Homework Assignment Planner( free) 1 – Large Pencil Case – $3.50 1 – Cursive Copybook – $1.50 1 – Cursive Tablet Paper – $1.50 Total due for these supplies – $6.50 
*Special Request: 1 box of tissues 1 roll of paper towels 1 container of Peroxide 1 container of hand sanitizer 
Thank you for your cooperation. I'm looking forward to meeting your children in September. Have a "Cool Cat" summer! 
Mrs. Patricia Holmes 
***SUMMER HOMEWORK***
I have posted your child's Summer Work to Google Classroom. Complete instructions are posted. Both the Reading and Math will be completed online. Reading will be completed through Google Classroom Assignments and Math will be completed through Freckle. The Summer Assignments are due on Friday, September 11, 2020. If you have any questions PLEASE let me know. Myself or Mrs. Upshaw can help.
If your child breezes through the math and you would like more assignments please let me know and I can assign more through Freckle.
Here is my Google Classroom link and class code:
Third Grade 2020-2021
Class code
uq4uliq
Please go to Mrs. Upshaw's  website below for a YouTube tutorial on Google Classroom for parents and also for your child if they need a refresher.
https://sites.google.com/sfdscs.org/msupshaw/home
Once to her site scroll down and go to Parents
click on Google Classroom
click on Tutorial for Parents
Please let me know if you have any questions or concerns. I will be happy to help!
Best,
Mrs. Patricia Holmes
—
Useful Links