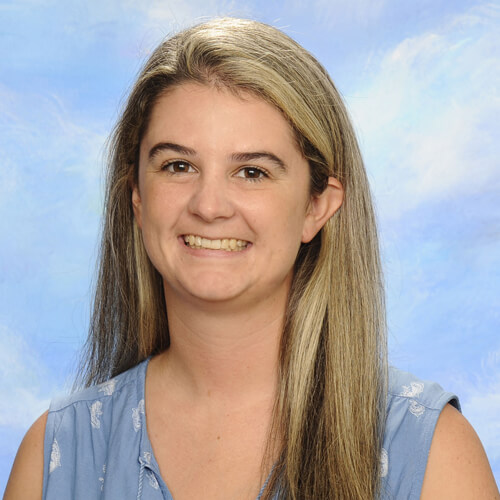 Casey Flanagan is the Pre-Kindergarten 3-year old teacher. She teaches the main academics and basic religion to pre-k3 students. She has three years of experience in teaching at St. Francis. She holds a Bachelor of Science from Salisbury University and an Associate Degree of Elementary Education from Wor-Wic Community College.
Miss Flanagan has been with SFdS for 10 years and served as our previous assistant director for the aftercare program.  Miss Flanagan is excited to be teaching at her home school as she too was once a young penguin and attended SFDS.  She is happy to be able to give back a little of what she received as a student when she was younger.
Miss Flanagan teaches through play. Teaching through play allows students to become social and learn the academic skills that are needed to enter Pre-Kindergarten 4-year old.  Her goals in the classroom are to have the students become familiar with a school setting, learn to play and socialize with others, and learn the basic colors, numbers, and names.
Miss Flanagan's philosophy in the classroom is to have fun while learning and to show love for one another in multiple ways. When you step inside her classroom you will witness this philosophy in her students.
Miss Flanagan is an active parishioner of St. Francis de Sales Catholic Church. She serves as the volunteer coordinator for the Appalachia Service Project group and she is active with youth ministry.  Miss Flanagan can think of no other place she would like to work, "being able to teach at St. Francis de Sales Catholic School allows me to share my faith through service and love."
Welcome Message
Announcements
Upcoming Events
Supply List
***No Summer Home Work***
***Supply List***